Kyoto
Passing down the Joy of Seasons with Selected High Quality Kyoto Vegetable Pickles- "Nishiki Takakura"
Shopping Kwaramachi・Pontocho
2018/09/03
A well known pickled Kyoto vegetable store in Nishiki market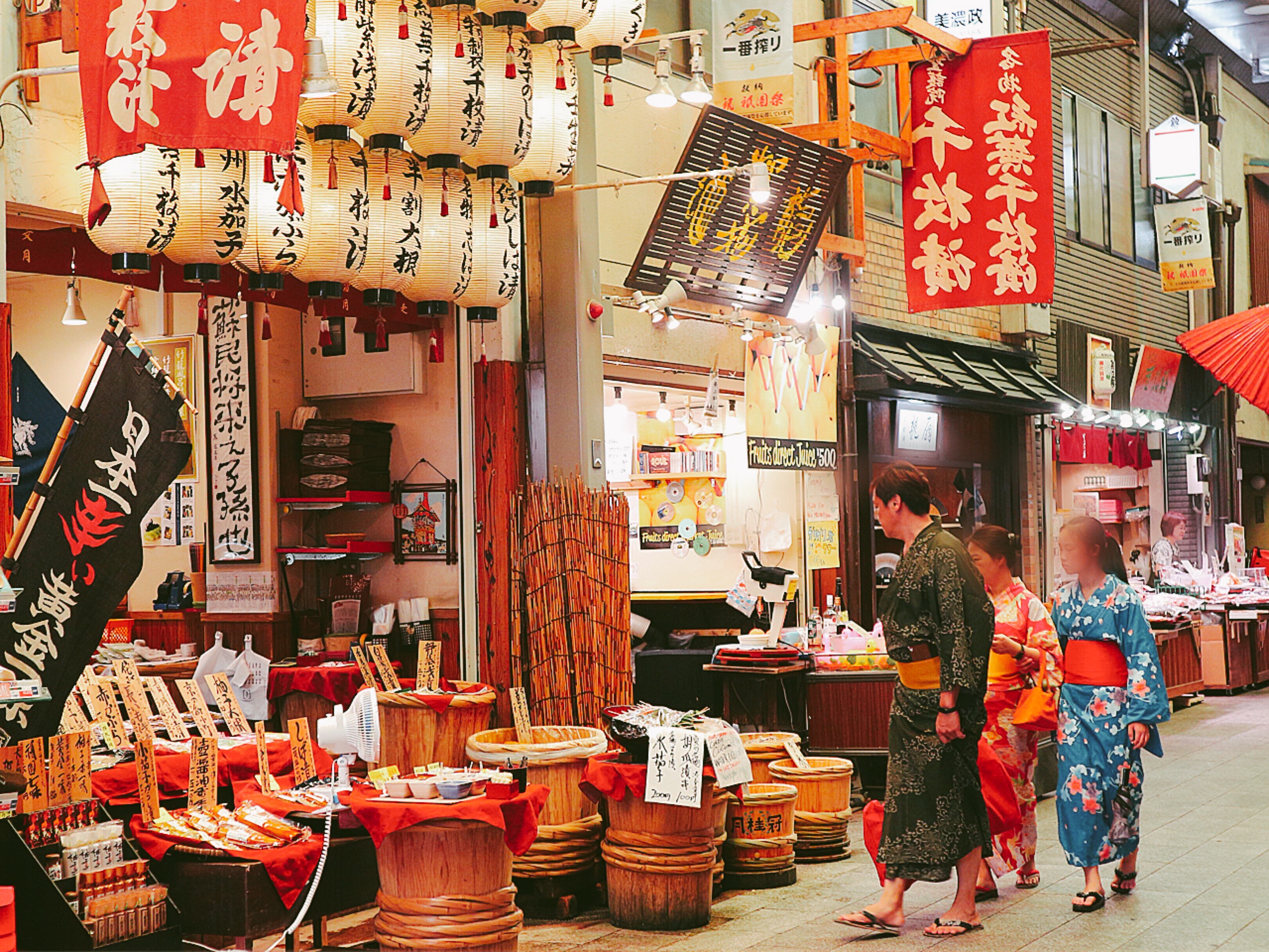 Nishiki market is nowadays known as a famous sightseeing spot, but many local chefs and professionals in Kyoto also visits here to get ingredients.
Entering this market from Teramachi side, there is a remarkable store with many pickles casks and lanterns. Nishiki Takakuraya is a popular pickled vegetable store always with a lot of people.
Cucumbers and eggplants on stick at the entrance is tempting to walk-and-eat. They shows how your Kyoto gourmet tour will be full filling.
Wide variations of vegetables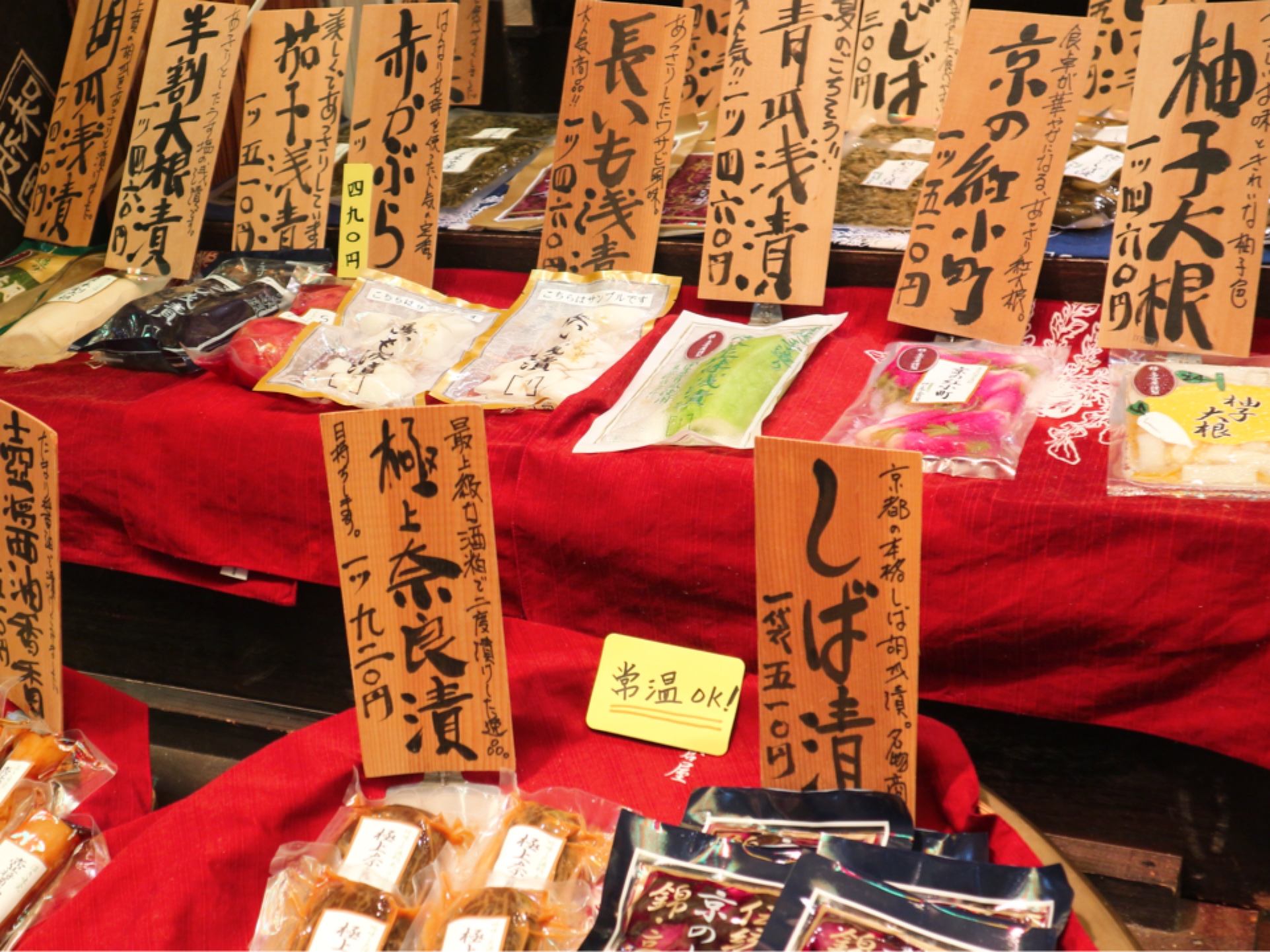 Since they are using seasonal vegetables, their product changes throughout the year. It lets us feel how Kyoto people appreciate and enjoy the seasonal differences.
They tell us the happiness to taste different and carefully selected seasonal vegetables.
They are also perfect for souvenirs to take memories of season, history and Kyoto peoples heart back home with you.
Attracting Testers Zone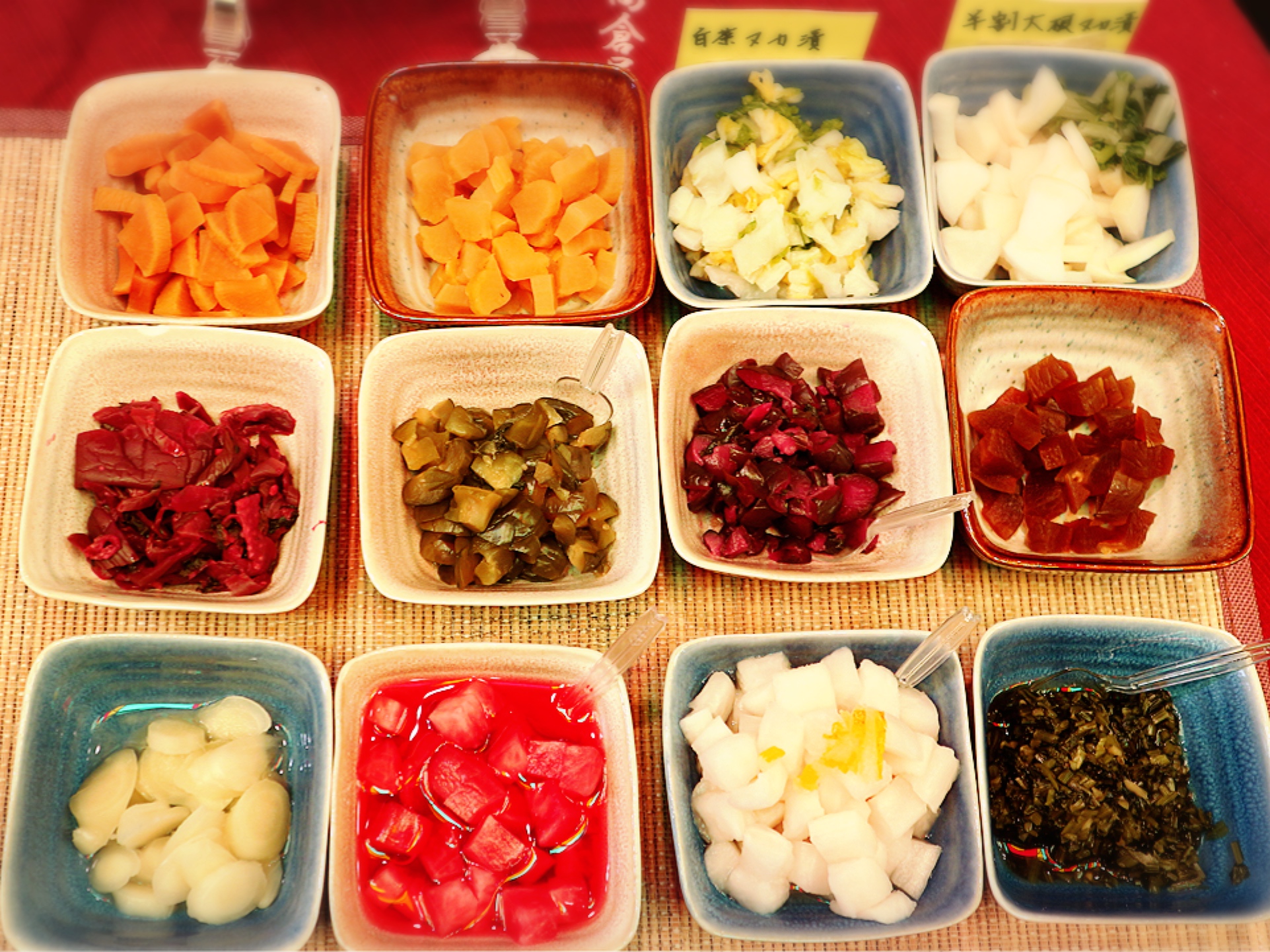 Bamboo shoots in spring, Senmai-zuke in winter... regular customers of this store is very looking forward to transitions of seasons and pickles.
The number of tasting testers and their vivid color is so tempting and make you to stop by at the shop.
Their tastes are all naturally produced by fermenting method without using any preservatives. This traditional Kyoto taste cannot be available in anywhere else.
Japan's Proud Preserved Food, Nukazuke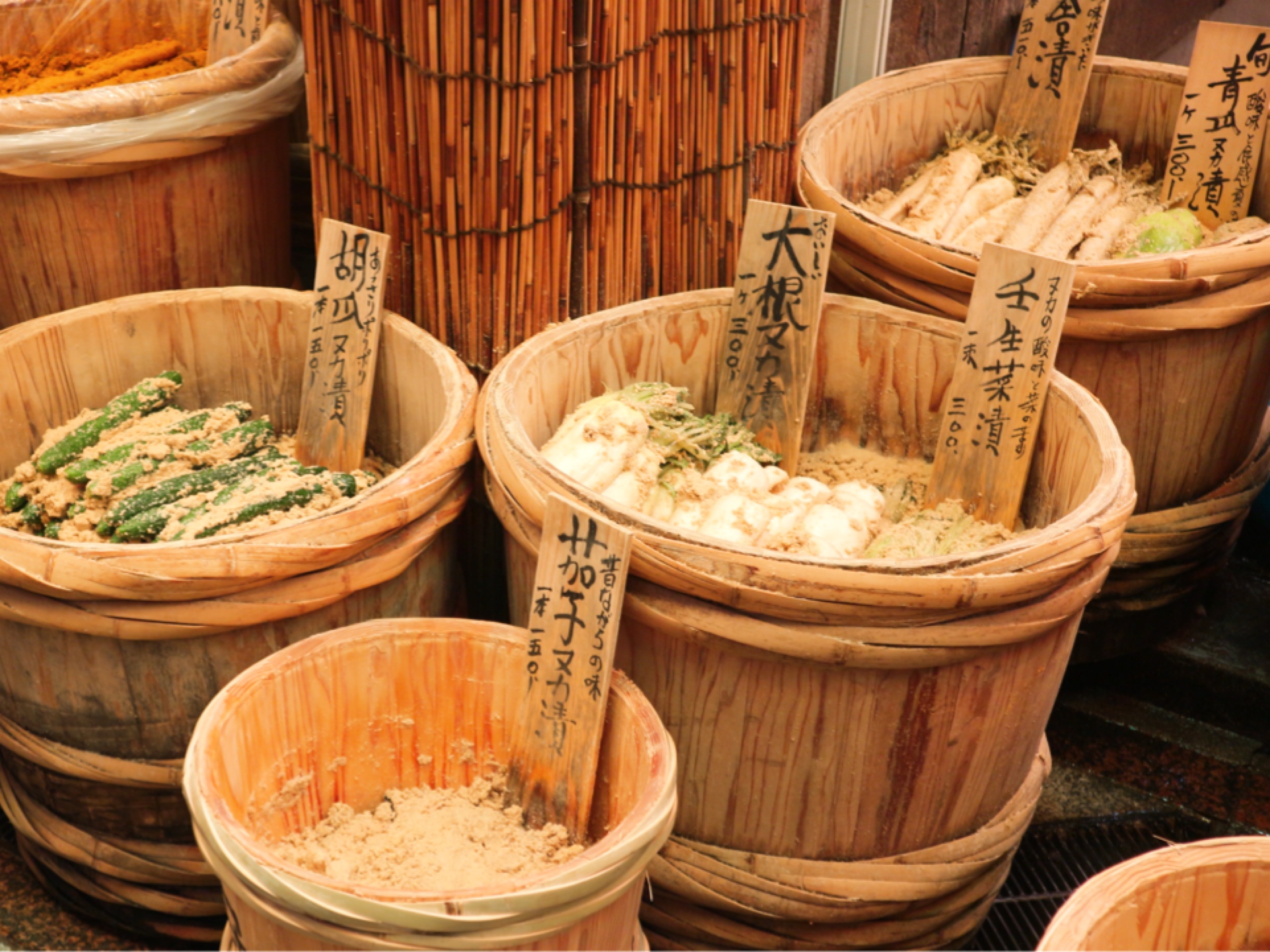 The climate in Japan is generally humid and warm. Since then, fermenting technology in Japan has been developed well as a way to keep foods from ancient times.
In here Nishiki Takakura-ya, they carefully prepare casks every day for customers to enjoy the seasonal fresh veggies in traditional Japanese fermenting methods.

For souvenirs. take aways and gifts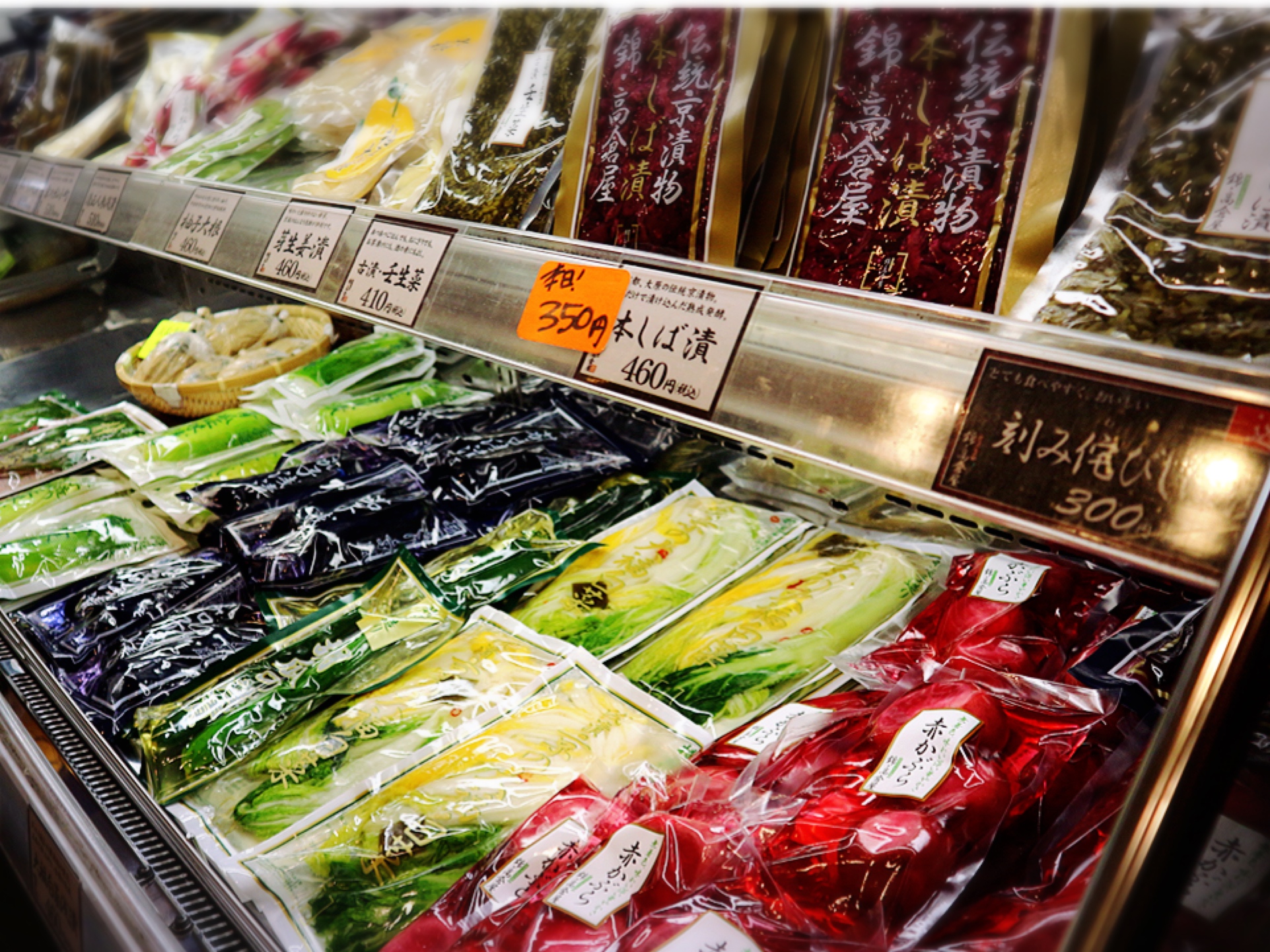 Located next to rivers such as Kamo-gawa and Katsura-gawa, Kyoto has rich water resource and vegetables are well harvested from the ancient times.
Kyoto vegetable is known as high-ranked brand vegetables since they are nutritious than the other Japanese vegetables by repeated selective breeding.
Using Kyoto vegetables and feeling the season colors your table today.

| | |
| --- | --- |
| Name of the facility | Nishiki Takakura-ya |
| Address | 〒604-8043Kyoto City, Nakagyo-ku, Nishiki Koji Teramachi Nishi-iru Higashi Daimonji-cho 289-2 |
| Tell | 075-231-0032 |
| URL | http://www.takakuraya.jp/ |
| Nearest station | 3 minutes walk from Hankyu line \"Kawaramachi Station\"/8 minutes walk from Keihan line \"Gion-Shijo Station\" |
| Business hours | 10:00~18:30 |